As always, the past few weeks have been hectic!  In fact, we have been exceptionally busy with furniture repair and restoration of antiques – given the extraordinary array of different items that have been brought into our workshop recently.
Of course, chairs are a constant problem for everyone – not least because they get so much use and once joints start to work loose then the whole chair tends to quickly become unstable.  Sometimes, before a chair can be repaired spindles or supports break and therefore require new ones to be turned to match that broken.  Meanwhile, of course, the covering and support for chairs can deteriorate and need replacing.  All of this we undertake, helped by our superb upholsterer.
Needless to say, our work consists (thankfully!) of doing a good deal more than the repair and restoration of chairs!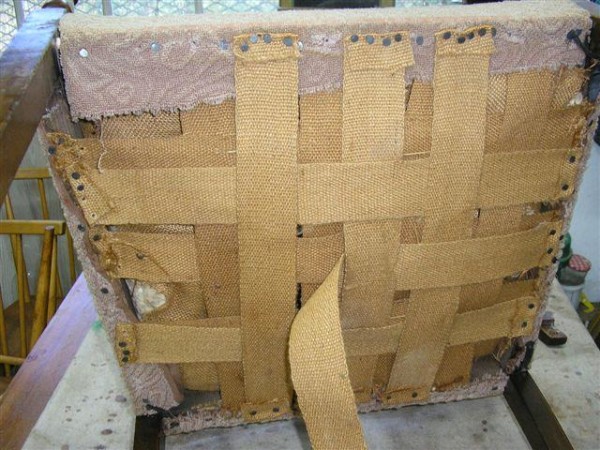 In fact, we will be very busy with some chests of drawers that you can see here.  These require significant attention – well beyond what you can see on the surface.
Indeed, one typical problem with chests of drawers is the wear that occurs on the runners of the drawers and on the areas where the sides of drawers meet the runners.  Once these parts become worn then drawers become problematic to open and close (and when closed end up at an odd angle).  So, one of the matters that we have to undertake, when furniture has drawers, is to replace worn runners and restore drawer sides where they have been worn down.  Once this has been accomplished drawers will 'run' as well as ever (and close properly), irrespective of the weight in them.  That can be blissful to anyone who has struggled with drawers for years!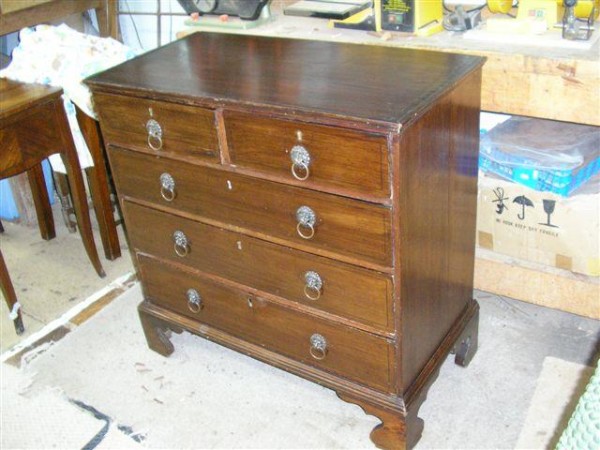 I actually do not believe that many people have the slightest idea of the extent of the furniture repair and restoration of antiques around Guildford that we can tackle – which is why I have posted up this image of a grandfather clock case!
Now, you may think that the grandfather clock case is beyond repair?
Well, it is not and by the time we have finished with it the case will look almost as glorious as the day when it was finished years ago.  Of course, it will take a great deal of skilled work – but that is exactly what we are capable of and, to prove the point, I will put up some images of the restored clock case once it has been finished.  You will be amazed!!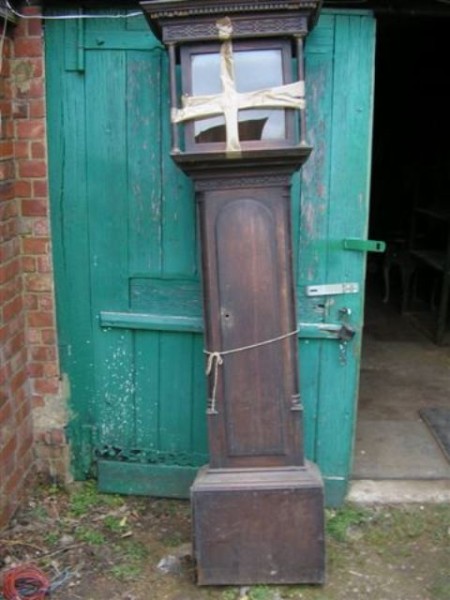 My point, of course, is that all too often people throw away or discard in their attics antiques, objet d'art and furniture that could be repaired or restored to their past glory.  Apart from massively increasing their value you can end up with an item to treasure.
So, if you need furniture repair and restoration of antiques around Guildford then do contact us.  You will be delighted by our personal service, the results of our work and the great value that we provide.
 Peter Snelling