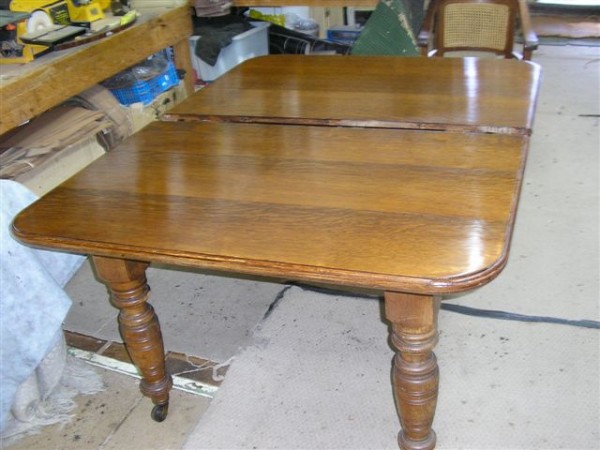 As is always the case, thankfully(!), furniture restoration in Surrey is always in demand.  I suppose this is because there are so many beautiful properties in the area, many of which have a large selection of antiques and fine furniture.  Meanwhile, most Britons have a fondness for old items of furniture (whether wealthy or not) and implicitly appreciate their value.  Equally, there are few of us who have not inherited antiques that are either valuable in their own right or that lack real sentimental value.
Recently, we have been working on many different items, amongst which has been the oak table and gilt mirror shown here.
The oak table, when it was brought into our workshop was almost black!  It really was quite horrible and required considerable work to bring it back to its previous glory.  A good deal of careful cleaning was required and then we were able to polish it – so that now it positively glows.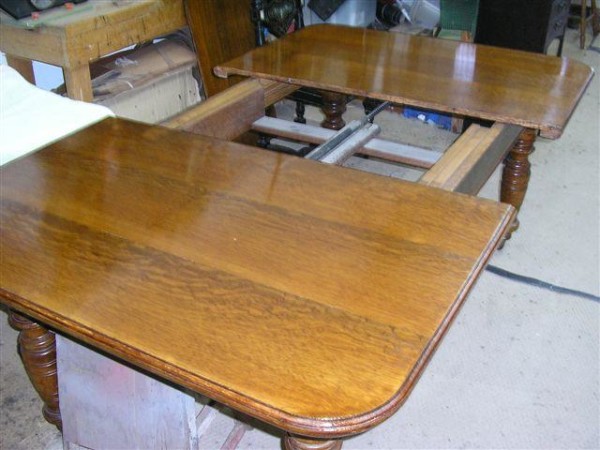 Our furniture restoration in Surrey goes well beyond just large pieces of furniture.  In fact, we receive a bewildering array of items (both large and small) that need repair and restoration with the ornate gilt mirror pictured being an example of something that requires very particular skills.  This particular mirror had many missing pieces and these we had to make to exactly match (obviously) the rest of the frame.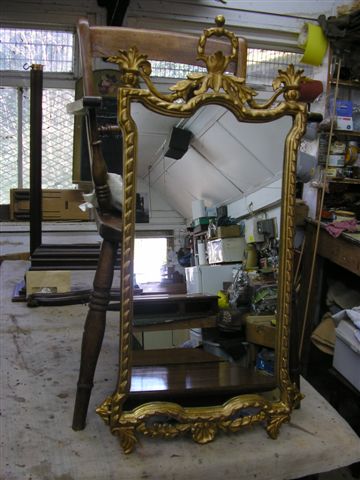 However, our work was far from over when we had completed the tricky carvings and re-inserted them within the frame.  We then had to very carefully match the new carvings with the colour and patina of that existing elsewhere on the frame – so that any repair work would be, quite literally, impossible to notice.  This, of course, is of the first importance.  Clumsy repairs and restoration can badly devalue an item and look very ugly indeed!
Of course, if you have any items that you need restoring then do bring them into our workshop (although ring beforehand to make sure we are in).  I am sure that we will be able to transform what you have – so that it becomes as useful and beautiful as the day it was made…
Peter Snelling