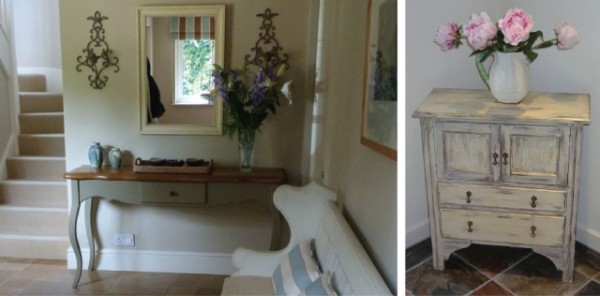 Well, this is fun!  A friend of mine runs a business doing paint finishes on furniture in Surrey – which is something that can totally transform your furniture.  In fact, despite being an antique furniture restorer I like painted furniture and, when it is done well, it can greatly enhance the item concerned.  Furthermore, as you can see from the images below, painting furniture can be a terrific way to go when you are designing a room and want everything to match well!
If you are looking for paint finishes on furniture in Surrey, then do get in contact with me and let me give you Jo's details.
Jo has a fine selection of furniture of her own upon which she has done paint finishes and these items are for sale.  Alternatively, of course, she can come to your own house and paint finish items of your own – or take them to her workshop for completion.

Jo, needless to say, is very talented and her aim is to design finishes to suit your requirements.  So, she is always keen to speak to you in detail to find out what you want and the colouring and design that will best suit you – and where your item of furniture is going to be placed.  This means that you can effectively design what you want with Jo realising it!
Jo has numerous examples of her work available for you to see in her workshop and many photographs of her work.  This can help you in deciding what you want – or Jo can do trial areas on an item to see if the finish is the one you desire.
Of course, one of the great things with paint finishes is that they can breathe new life into furniture.  Indeed, they can also totally transform a modest piece of furniture into something really special, when that piece was quite likely to be thrown away.  That is the glory of paint finishes, in many ways.  So, if you have a piece of furniture that is looking tired and out of place then think of Jo and get her to transform it – by doing one of her fantastic paint finishes on furniture in Surrey!
Peter Snelling